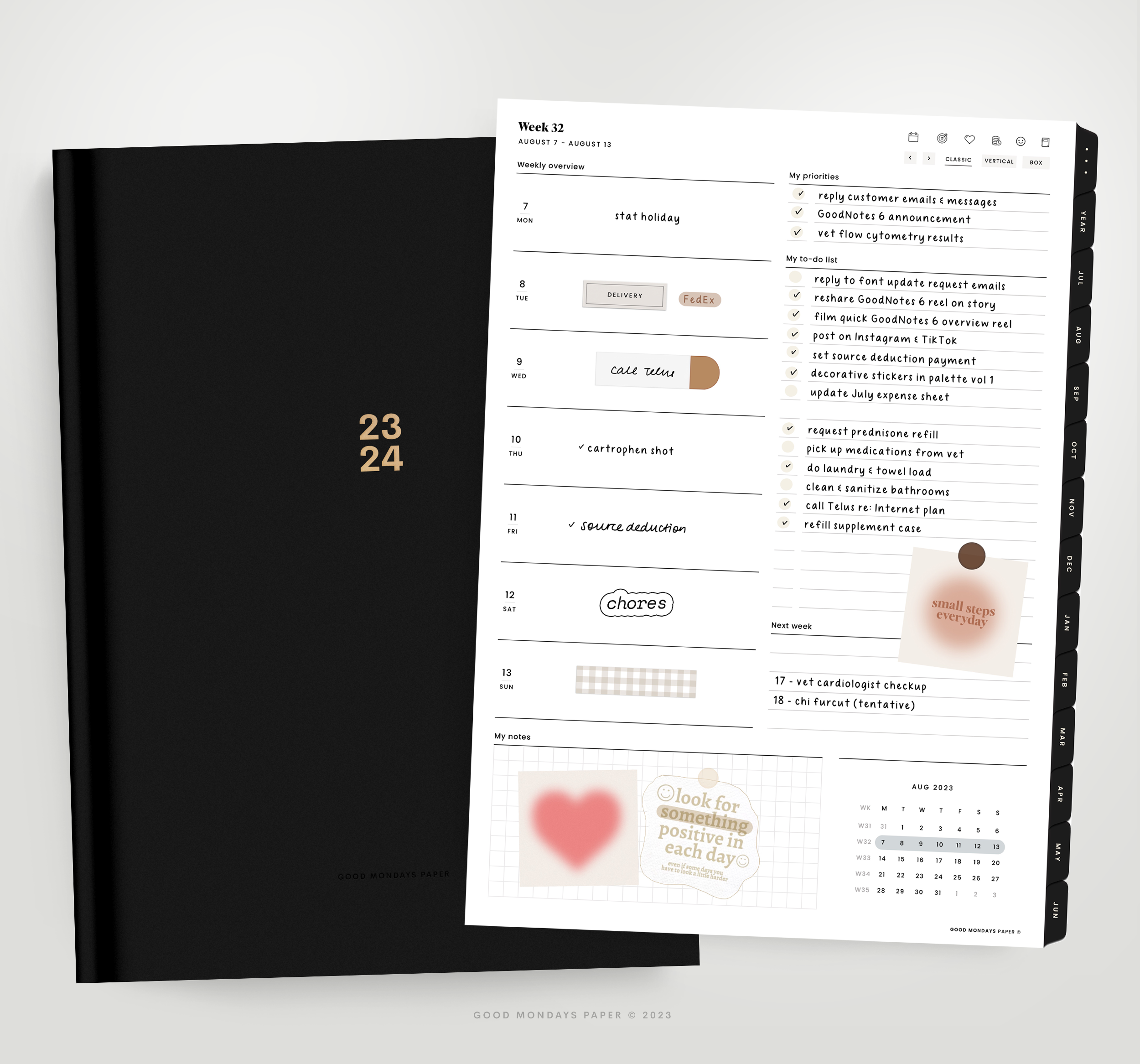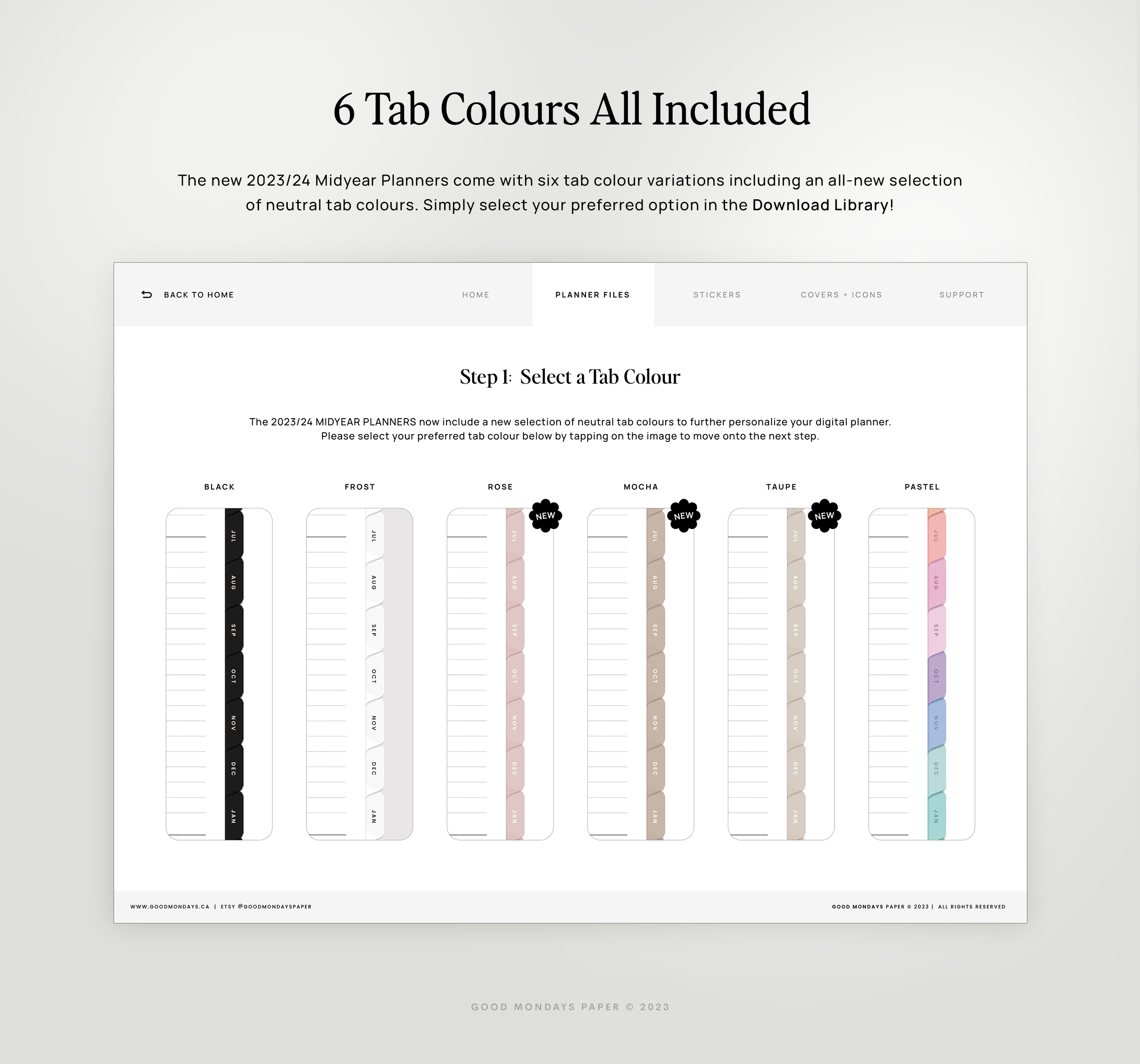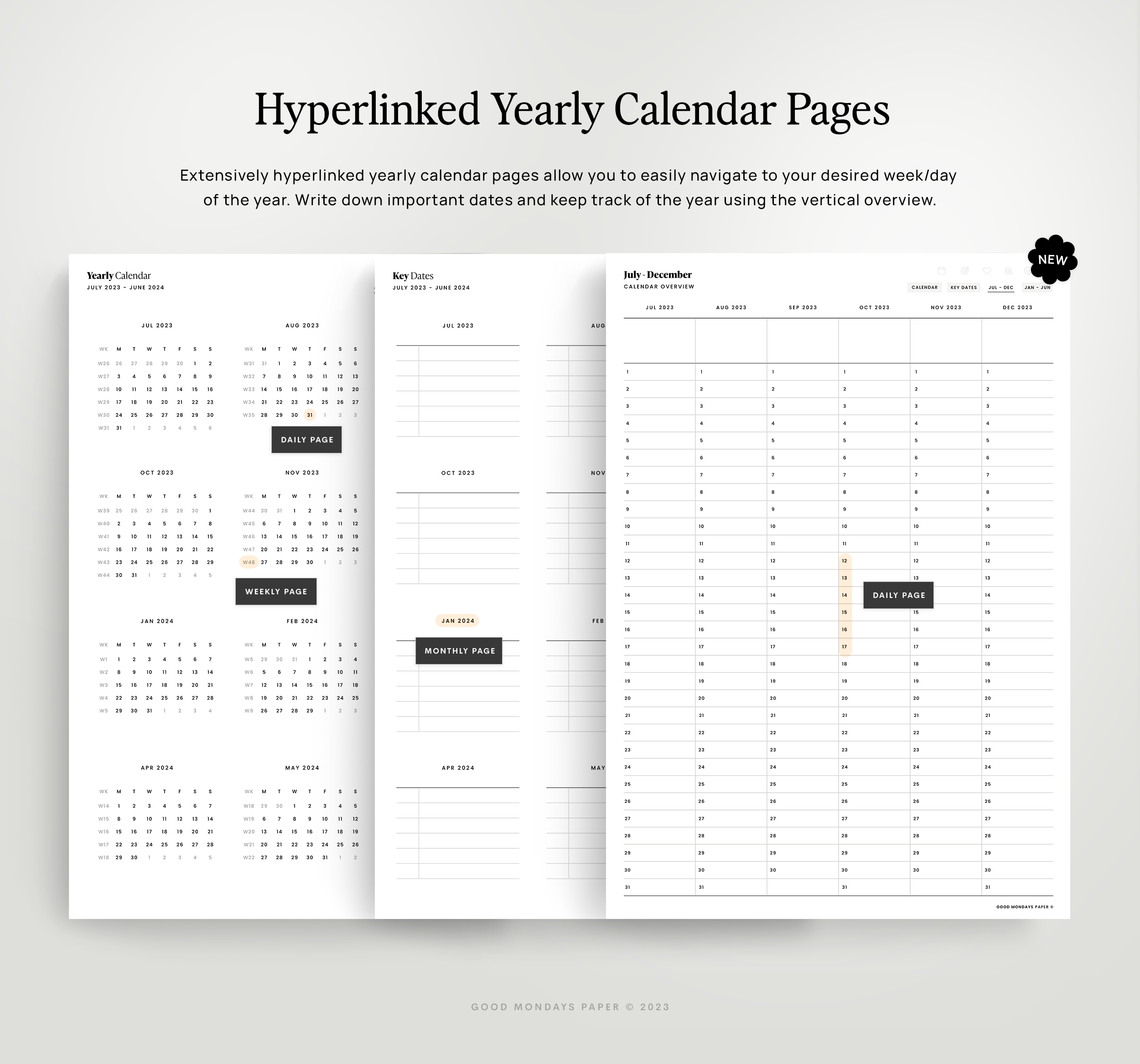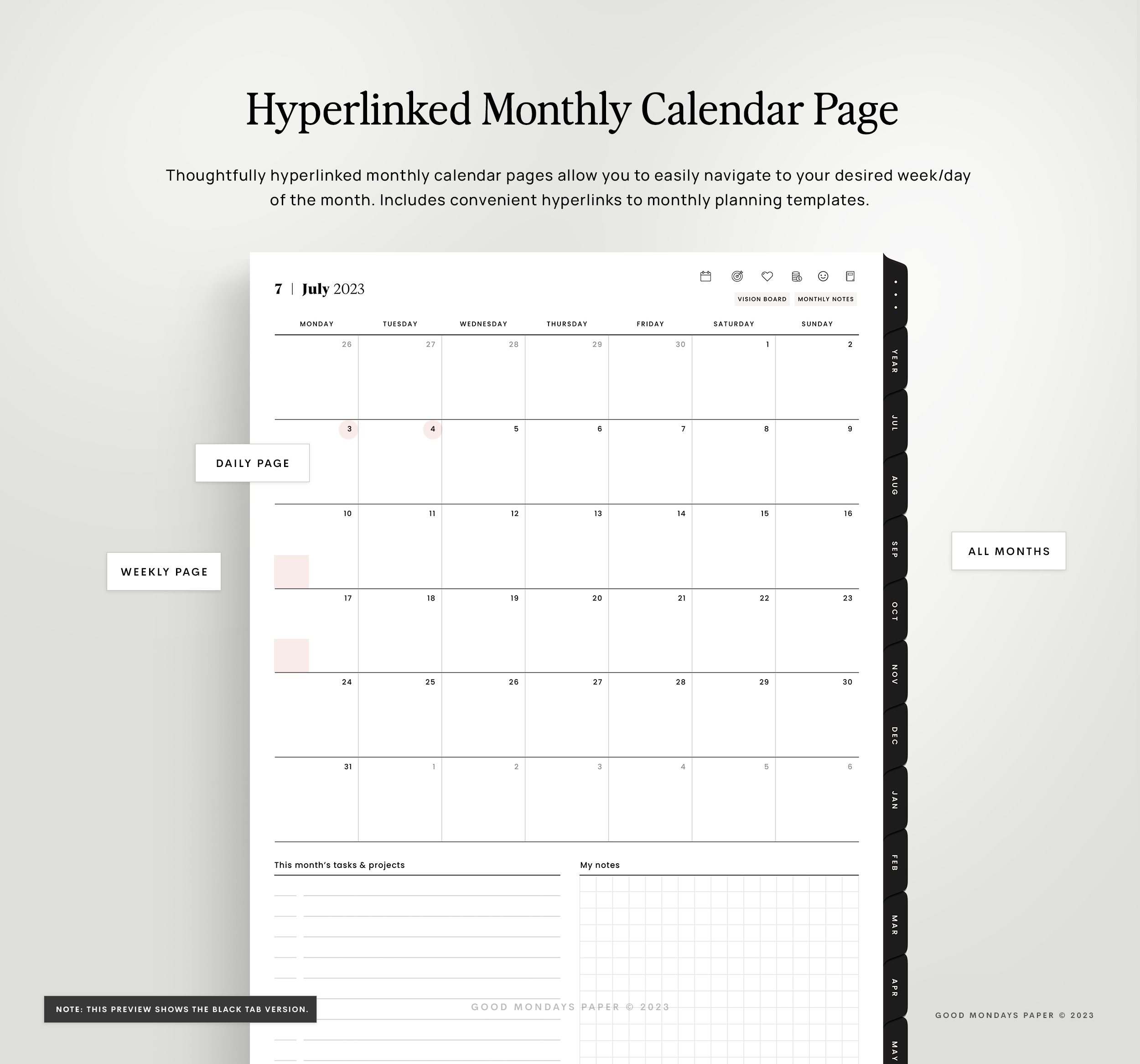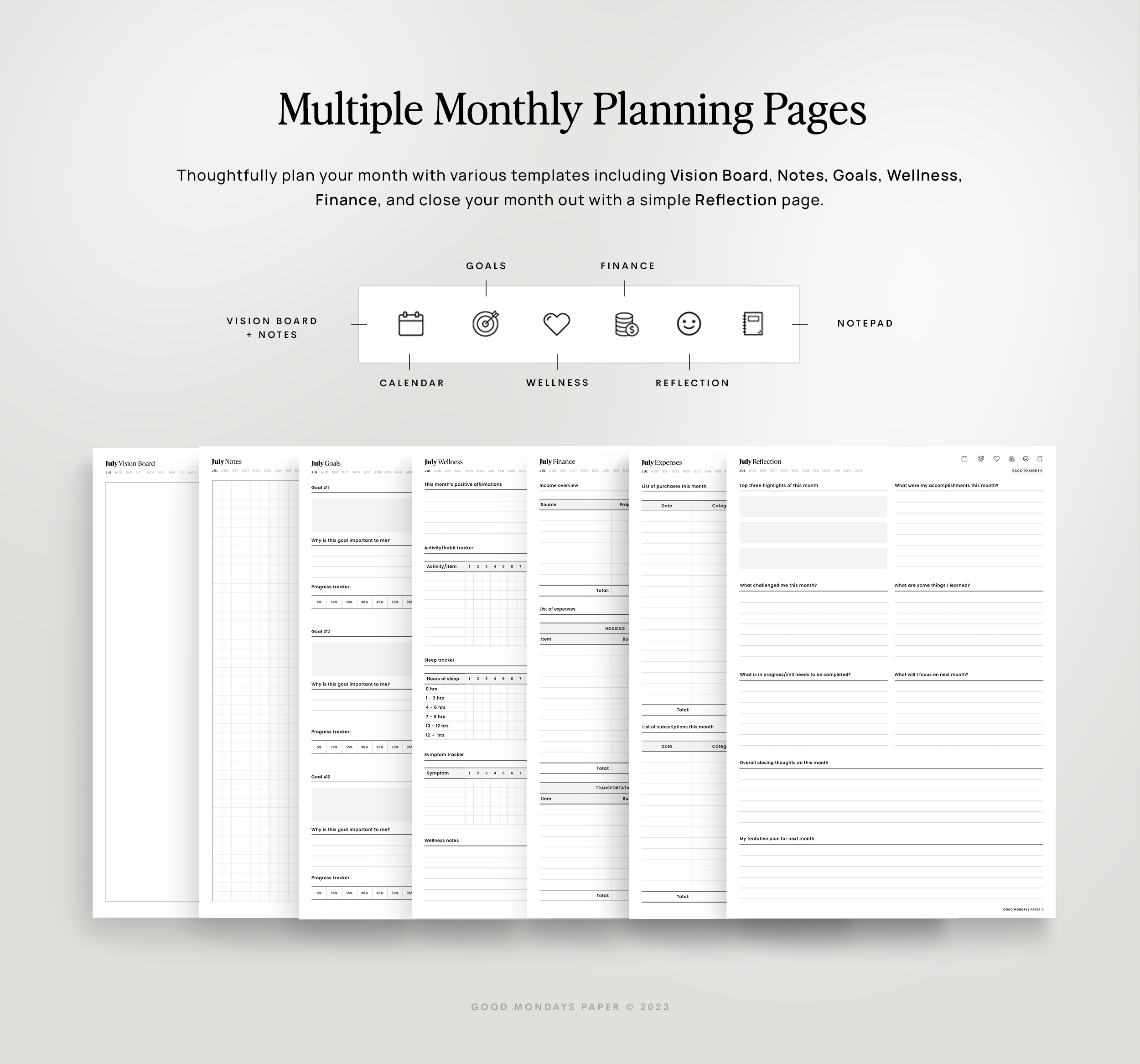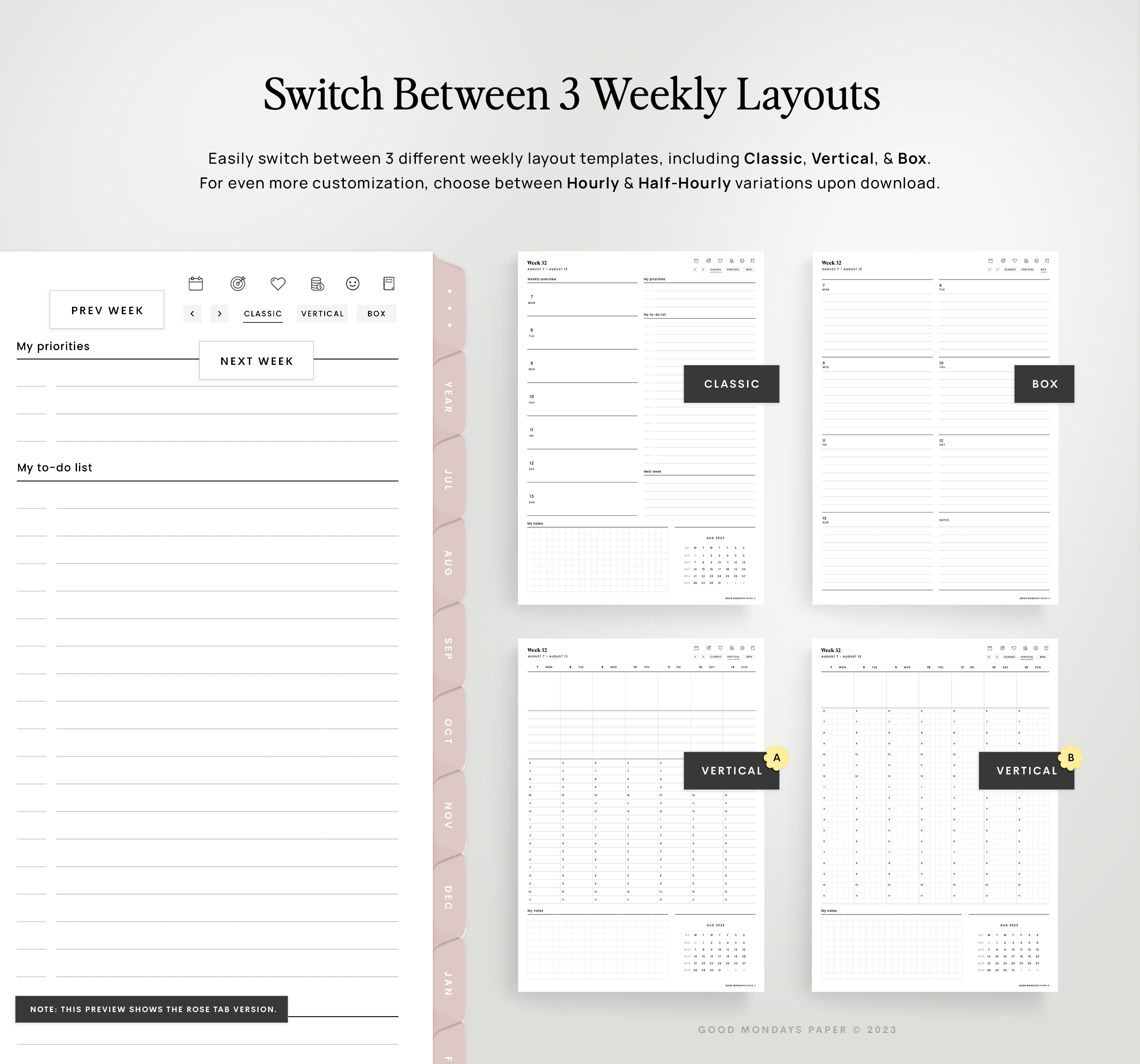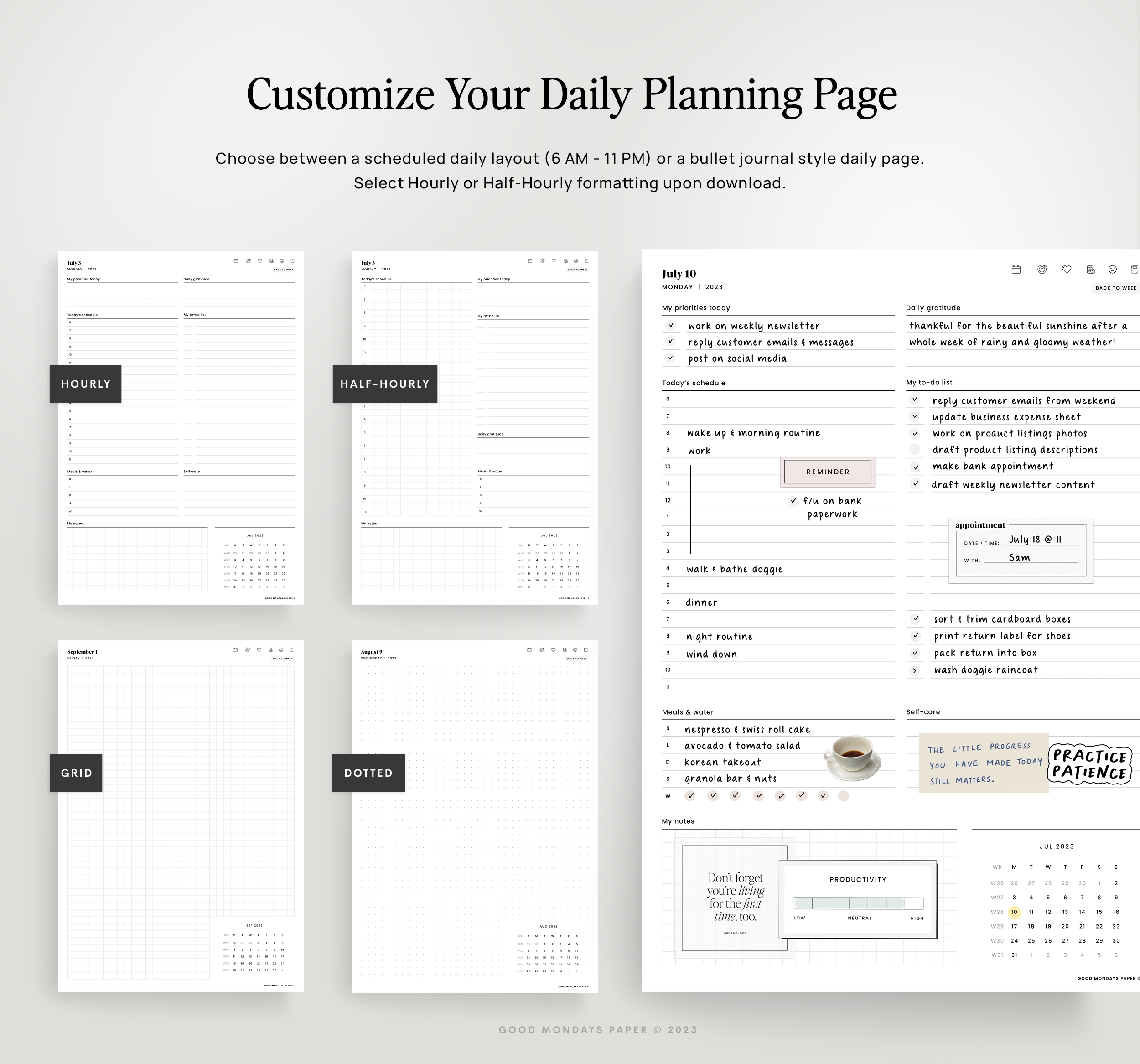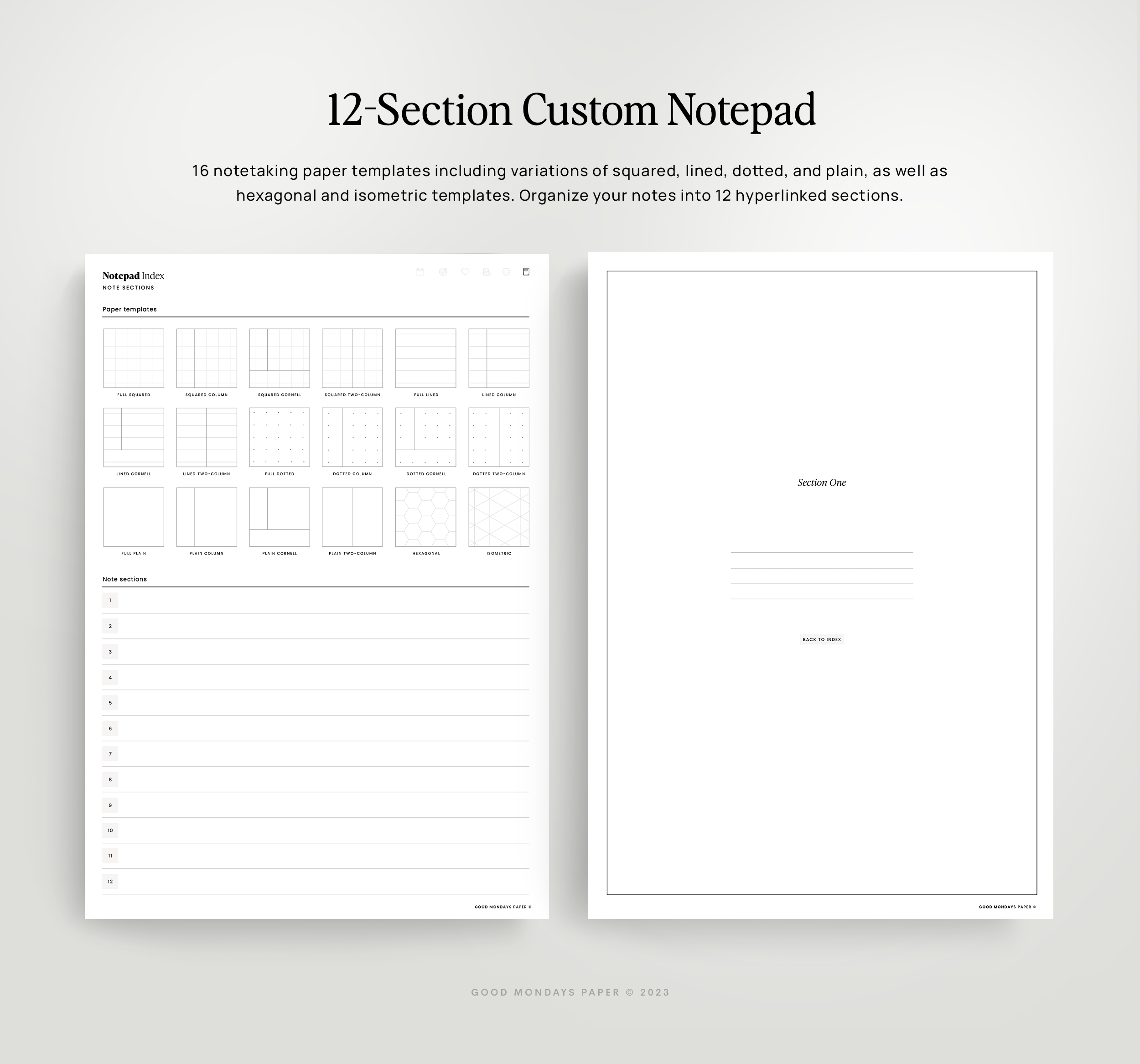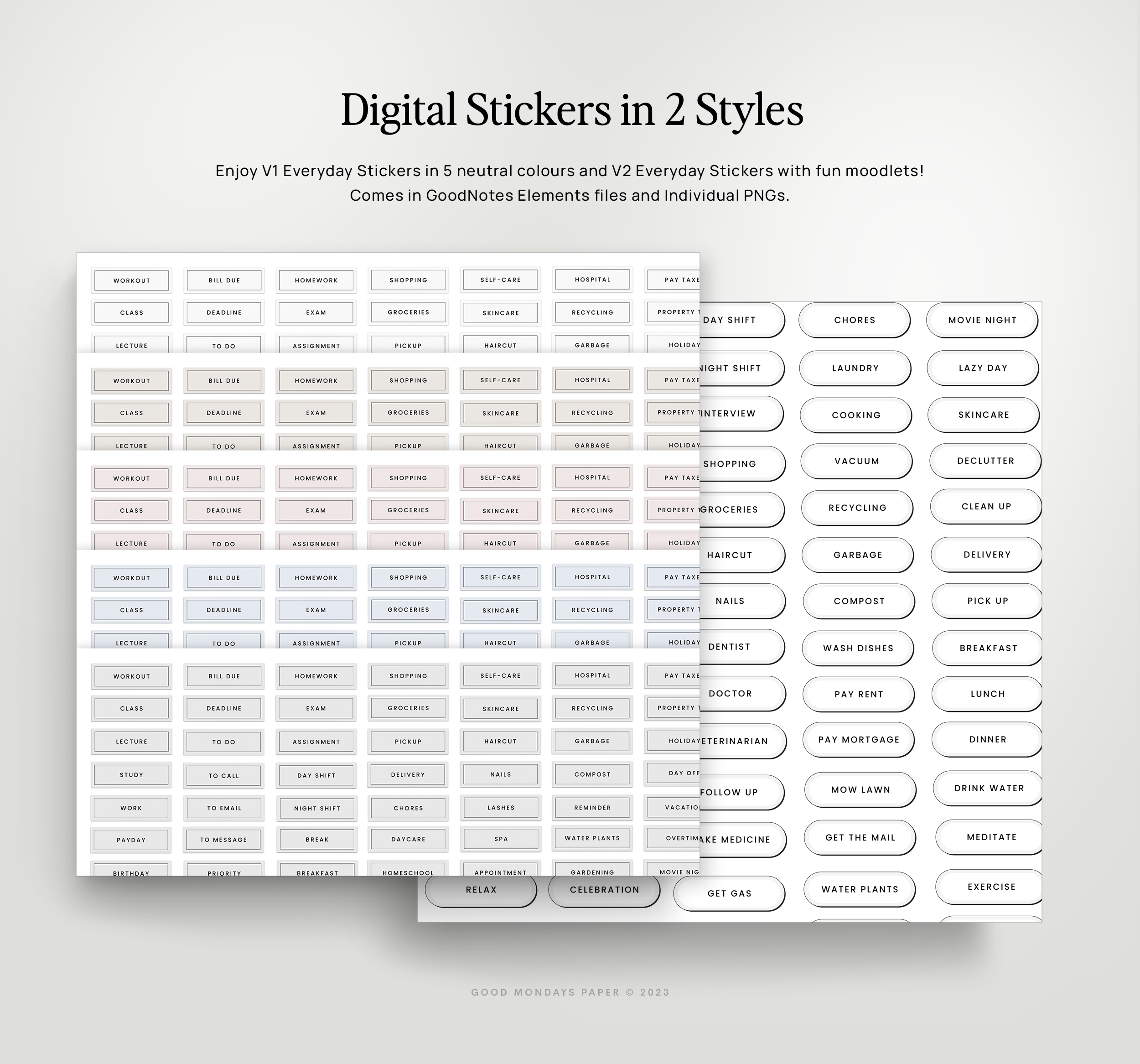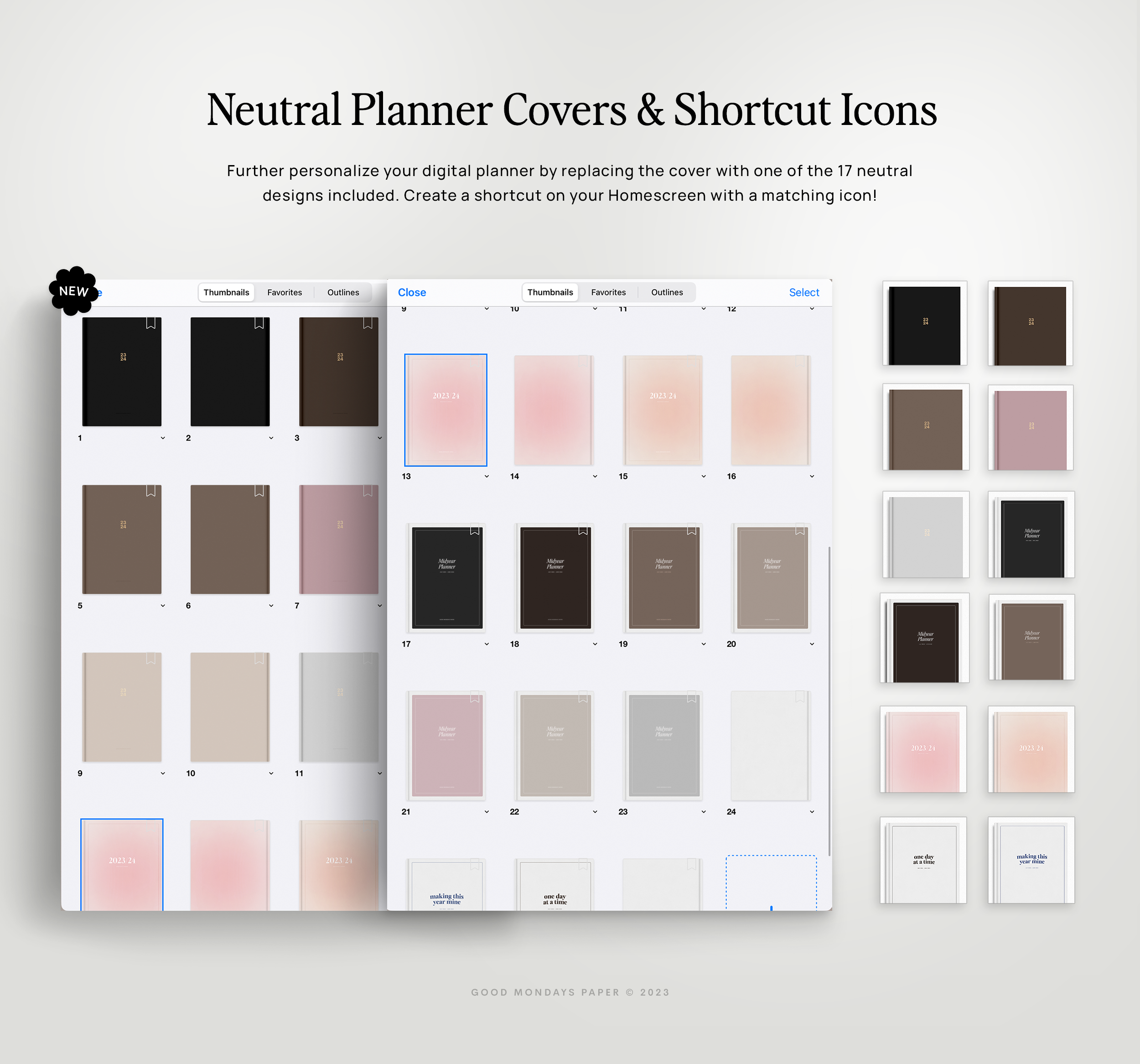 2023-24 Midyear Portrait Digital Planner
$17.99 USD
Regular price
$19.99 USD
off
Description
Intended for digital use with GoodNotes, Notability, CollaNote, etc.

This is not a physical item. No refunds or exchanges are accepted.
Introducing the new 2023-24 Midyear iPad Planners! Get organized in 2023 with this customizable yet minimalist planner that is intuitive and non-overwhelming to use. Along with several design upgrades, the 2023-24 planners now include 6 colours in one download. The planner sports clean lines and non-distracting designs to ensure that your planning personality is always at the forefront of the page. Monday & Sunday start included.
PLANNER FEATURES

• Portrait Orientation, Light Mode
• Includes 6 tab colours
CALENDAR PAGES
• July 2023 - June 2024 hyperlinked yearly calendar
• Key Dates page & hyperlinked vertical calendar overview
• 12 monthly calendars with hyperlinks to Weekly & Daily pages
• Easily switch between 3 weekly layouts (Classic, Vertical, & Box) 
• Choose between Hourly or Half-Hourly weekly & daily upon download
• Previous and next week buttons to jump between weeks 
• Choose between classic scheduled daily pages or bullet journal style daily page layouts at download
• 6 AM - 11 PM schedule
PERSONAL TEMPLATES
• Vision Board, Monthly Notes, Goal-Setting, Wellness (Activity/Habit Tracker, Sleep Tracker, Symptom Tracker), Finance (Budgeting, Expenses & Subscriptions Tracker), Reflection
NOTEPAD
• 12 notepad sections 
• 16 paper templates including Squared, Lined, Dotted, Plain with Cornell variations 
• 2 new Hexagonal and Isometric paper templates
STICKERS & COVERS
• V1 everyday stickers in 5 colours
• V2 everyday stickers
• Fun & creative mood tracking stickers with pre-drawn Moodlets (by yours truly!)
• Stickers come in GoodNotes Elements files & Individual PNG files
• 17+ extra planner covers and matching shortcut icons for further customization
Included Files
[1] PDF Digital Library file that contains links to access to the following downloads:

• [6] Monday Start planner files
• [6] Sunday Start planner files
• [1] Pre-cropped Sticker Book
• [3] .collection files for GoodNotes Elements
• [200+] Individual Sticker PNGs
• [20+] Extra planner covers


RETURNS & EXCHANGES
No returns or exchanges are accepted due to the nature of digital downloads. Please double-check your cart before moving forward with your purchase.
2023-24 Midyear Portrait Digital Planner
$17.99 USD
Regular price
$19.99 USD